In Memory
Frank Diskin (Teacher)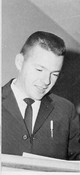 This is the article which appeared in the Wichita Eagle the day after Frank's passing.
Kansan killed in Colorado rafting trip
BY RICK PLUMLEE
The Wichita Eagle
Frank Diskin, a longtime coach and athletic administrator in Kansas and the Kansas City area, was killed Thursday on a rafting trip just west of Fort Collins, Colo.
Larimer County Sheriff's officials said the raft flipped and dumped all eight people in the raft in the high-flowing Poudre River.
Diskin, 69, most recently served as the activities director at Parsons High School before retiring in 2010.
He was the athletic director at Rockhurst University from 1985-2007. A native of St. Paul in southeast Kansas, he also was an assistant athletic director at Washburn University and athletic director at St. Mary of the Plains College in Dodge City. He also coached basketball, baseball, football, softball, track and volleyball.
Diskin was sharing a raft with several family members when the boat flipped Thursday afternoon, according to The Coloradoan.
The group was on a commercial rafting trip operated by Rocky Mountain Adventures. Two other people were rescued from an island on the river and a fourth sustained a leg injury, said Greg Fairman, a deputy coroner and investigator with the Larimer County Coroner's office.
Diskin was swept about 1 1/2 miles downstream before bystanders pulled him from the water. They tried to perform CPR but were unable to save him, Fairman said.
An autopsy is planned for today to determine whether Diskin drowned, suffered trauma after hitting rocks or had a heart attack while trying to swim to safety, Fairman said.
=================================================================
The following is from Frank's daughter , Barbara. I received it the day after his passing and have included it here as a fitting tribute to him..... rick Shipley
"Never let go of your faith" - Frank Diskin

If you have received this message, it is because you are in the contact list of my father Frank Diskin.
As much as I hate and cannot believe that I am sending this email, I am.
This week, my family - all of my siblings, their spouses and children, and my parents were blessed to take our first ever family vacation. We spent four glorious days in Estes Park, CO. exploring all of God's majesty. Sadly, on day five of what was to be a week long adventure, tragedy struck our family. We lost our Dad in a white water rafting trip accident on Thursday afternoon.
Many of you probably heard me speak of the special relationship I was blessed to have with my Dad from a very young age. As a child, I wanted to be wherever he was. Heck, I was taking walks to the high school and across basketball courts to get to him at the wee age of 2!
To this day, so many of my fondest memories are times spent with my Dad. He is the greatest man I've ever been blessed to know, and I have always been so proud to carry his name. We know that he is loved and respected by people all across this great nation and that, as a coach and teacher, he impacted the lives of so many.

The greatest gift our Dad gave us is our faith in God. Even before we were born, we were Catholic, and we have been blessed to be part of a community of faith that has sustained so many in our immediate and very large extended family. I know that our Dad is in the arms of our Blessed Mother, and I know that our faith will sustain us because our Dad modeled how living the priorities of faith, family, work/school, (insert the sport he was coaching at the time) made for a very happy life. He lived a life of thanksgiving for the blessings in his life, never hesitating to express his gratitude, and he was never happier than when he was with his family.

My Dad has always been my best friend and I can't imagine what each day will be like without him. Still, I am thankful for every day I had with him.

I ask that you please keep my Mom, my three brothers and two sisters, our in-laws, our niece and four nephews, our Uncle Felix and Aunt Margaret, and our extended family in your prayers.
Also, please feel free to forward this email to anyone you see fit. I can't imagine I've been able to reach everyone for whom Dad made a difference in their lives.
Please note that any responses to this email are being forwarded to my personal email account at
barbarad68@hotmail.com
. I will gladly share these with my Mom and siblings, and will also provide updates about our Dad's services next week as the details are ironed out.
Thank you -
Barbara Diskin
"The next effort's the most important" - Coach D
================================================================
My brother, Bob, ( bjship17@yahoo.com )delivered this eulogy for Frank on Wednesday at Frank's memorial service in Kansas City. Thought others might enjoy it. rick


EULOGY FOR FRANK DISKIN
Barbara Diskin called me on behalf of her family on Monday and asked if I would deliver an eulogy for Frank this morning. Of course, I readily agreed to do so. After all, Frank Diskin, was my best friend…..then again, Frank was a good friend to many!!
And, then came the difficult part…………what does one say about a man who was so many "special things" to so many people? You know….a wonderful husband, a dedicated father, and an amazing mentor, coach and friend to literally hundreds, if not thousands of people, young, middle aged, and elderly. Mainly, Frank was "frank"…great name for someone with his ability to "cut to the chase" and lay out a workable plan while allowing the other person to always feel a part of the decision.
I used to call him on the telephone and say, "Hey why don't you be Frank, and I'll be Earnest". We would laugh and then proceed to visit about family, faith, friends, concerns and whatever else would wander through an hour's worth of phone time.
We had one of our "Frank and Earnest" visits on the Friday prior to the Diskin family leaving on their family vacation. I had called to ask Frank about a former student at St. Mary of the Plains College who held a special spot in both of our hearts. I was sharing with Frank about how his ability to "help people" was truly a blessing. But, of course, Frank immediately deflected any credit and brought up two or three other fellow teachers and coaches who had done the most for this young man. That was one of the things that made Frank "so special"……….He was never FULL OF HIMSELF!!!
After several minutes of visiting with Frank about this young man, we discussed other things. Toward the end of our conversation, Frank mentioned how excited his was that the entire family would be taking a vacation together….as I understood it…for the first time ever. He then caught me up on Mary, the children and grandchildren; and, as usual Frank wanted to know how Jamie and our kids were doing. The last thing he said was, "We have to get together soon".
My oldest son, Rob, always tells me, "Dad, God's plan is the perfect plan". I always agree, and then say, "But, I don't always get His plan." Then, Rob replies, "Dad, you don't have to get it, that's what FAITH is all about." That was what Rob told me when his mother was sick, and he has nevered wavered.
Having said that, I still don't "get it". And, often my FAITH is weak. I guess when my dear friend, Rick Plumlee, called me Friday morning and said, "Bob, did you hear about Frank?" my first thoughts were not "God's plan is the perfect plan". Like everyone else my "heart was broken". But then, I would imagine Frank would point out that God's heart was broken when His son died for all of us. Frank had a way of "seeing the big picture" a lot better then me. I do believe Jesus was there with Frank on Thursday afternoon……….They REALLY KNOW EACH OTHER WELL!!!
-2-
My memories of Frank are wonderful. He was so many things to so many people. We all know an "Elmo Joke". And, there isn't much about Frank's life and times in St. Paul, Kansas, that we haven't shared (at least in Frank's terrific yarn spinning). Most of us have been part of Frank's memory making….from his going to Boys State as a junior in high school, to coaching and teaching high school, to coaching and being athletic director on the college level.
BUT, Frank's family was his most "prized possession". He talked often about each and every one of them. Mary was his "rock" and I believe that Mary saw Frank in that "same light". Brian, Barbara, Sharon, Aaron, Ashley and Adam…….. you are blessed to have had a father who, not only, said "he loved you", but also re-enforced that with his actions.
Frank talked often about all of you and his wonderful grandchildren. He told me in our last conversation that he and Mary were looking forward to a new grandbaby in December. He also said he was really enjoying working with Sharon. Barb told us in her internet posting on Friday of his specialness to her and her siblings.
Frank Diskin didn't just "talk a good game". He coached it, played it, and drove the bus home afterward. His dedication to Catholic Education is a testimony to his love of God, his Church, his family, his co-workers and his friends. Frank Diskin didn't build a sterling reputation on "what he was going to do". He built that impeccable reputation on "what he did". He is a part of a very small fraternity of achievers. And, the best part…It was never about him.
Frank paid attention to the little things, as well as, the big ones. Some of my most cherished memories involve Frank's relationship with "Jerry Mac" during his tenure at St. Mary of the Plains. Frank brought "meaning and dignity" to Jerry's life. In return, Frank received Jerry's loyalty and undying appreciation and love. It was something that Frank didn't have to do……….. BUT, it was something Frank WANTED TO DO.
Whenever, Frank would visit Dodge City, Jerry Mac was ALWAYS on his visitor's list.
Frank Diskin taught me many things about being a "strong, solid, Christian man". If Frank believed something he stood by it (no "Shrinking Violet" was Frank). If he was wrong he admitted it, although I don't remember him being wrong very often.
Frank lived the Beatitudes of the Church. He visited the sick, He helped clothe the needy. And, no one I have ever met gave more of himself to people during times of trouble. Many times, Frank would travel to a funeral or to visit a sick friend, and return the same day. He brought my mother and dad to the KU Medical Center from Dodge City in the middle of the night when Nate was dying. When I tried to thank him again recently, all he talked about was the man who loaned him a new car to make the trip.
Frank also had a special place in his heart for his brother Floyd, explaining in detail how many lessons he had learned from a sibling who died young. The last couple of years he told stories of fishing with Felix "down home". Family was everything to Frank. He traveled much, but his heart was always "down home".
I could continue on for a long, long time and really never say enough about Frank. Sometimes, eulogies extend plaudits that paint a "better picture"then the facts present.
My effort this morning simply doesn't do Frank justice. There is just TOO MUCH TO SHARE.
Marylin gave me a plaque years ago. It showed a father and his son fishing off a dock.
The caption was simple. It read: "Try not so much to become a man of success;
But, rather a man of value".
Frank Diskin was indeed A MAN OF VALUE.